BALI, Indonesia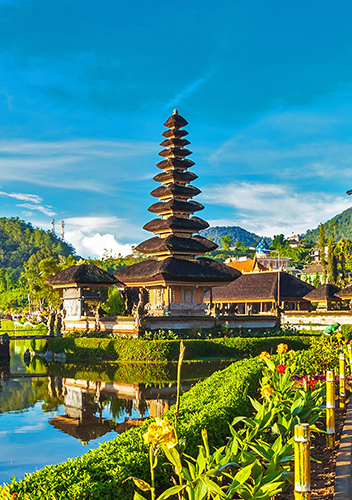 The Republic of Indonesia is a sovereign state situated in Southeast Asia. Having the population of around 261M according to 2016 census, Indonesia is the world's largest island country. Jakarta the capital city of Indonesia is the world's second largest populous urban area in the world. Why do people love to visit Indonesia? Some of the points are mentioned below.
Bali
Bali is widely known as the land of Gods. Cultures and traditions are the significant factors for visitors to visit Bali. A wide variety of full day and overnight tour packages are available in Bali.
Borobudur Temple
Borobudur temple is the world's largest Buddhist temple which is enlisted in Unesco World Heritage Site. Thousands of visitors visit this per on a monthly basis.
Mesjid Raya Baiturrahman
Mesjid Raya Baiturrahman, a 19th-century mosque is a dazzling site to observe. Friday afternoon is the best time to visit the mosque because the entire courtyard will be filled with people for prayers.
Taman Nasional Kepulaun Togean
Taman Nasional Kepulaun Togean is a national park which is declared as a tourism area of national significance. This national park is a home for several Indonesia's endemic and endangered plants and animals.
Prambanan Temple
Prambanan Temple is Indonesia's largest Hindu temple which is enlisted in the world heritage site. Thousands of visitors visit this per on a monthly basis.
Museum Nasional
The National Museum of Indonesia is a place of essential visit. Museum Nasional holds historical, cultural, traditional and agricultural artifacts from which some of them are considered very old.
Muara Jambi
In the Sumatra area, there are a lot of Hindu-Buddhist sites where you can see a lot of scattering of ruined and partially stored temples. Most of the temples date from 9th to 13th centuries.
Indonesia is a country with countless tourist destinations. If you want to visit Indonesia and don't know where to start, you can take help from us.
Booking
We use a lot of modern popular online platforms to book hotels, flights tickets to our customers going on a tour planned by us. We promise to provide the best of the best rates to our clients by directly dealing as an authorized agent with them to care our customers referred by us.
As we have mentioned in other articles as well, we provide book, stay, return and pay later facility to a large number of our regular customers.
Contact
We recommend our customers to either make a phone call via our 24x7 support number from the top of the website. If you live abroad, you could contact us on our facebook page, inquiry via our contact us page to drop an email up to our inbox.