BANGKOK, Thailand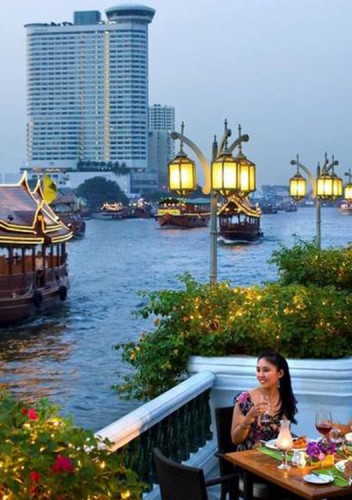 When it comes to the tourist destination, Thailand is the first country that people usually like to visit. Thailand is one of the biggest tourist destined countries which is situated in Southeast Asia. Thailand has a population of around 68.8 Million according to the census of 2016. Maha Vajiralongkorn is the Monarch and Prayut Chan-o-cha is the Prime Minister of Thailand. The best places to see or visit in Thailand as followed as below.
Phuket Island
Thailand's largest island Phuket is rich in phuketian culture. Fabulous food, underwater wonders, cultural heritage, and widely diverse Phuket island is a place where you wouldn't want to leave.
Lumphini Park
A park named after Buddha's birthplace in Nepal, Thailand's Lumphini Park is full of Buddhist cultures and traditions. People mainly from Nepal, India, and Srilanka usually go to visit this park while they are in Thailand.
Bangkok City
Thailand's capital city Bangkok is one of the best tourist destination places. Magnificent temples, authentic canals, Malls, Shops, Cultural places, Hotels and Resorts, busy market, vibrant nightlife are the things to experience in Bangkok.
Sukhothai Historical Park
Sukhothai Historical Park ruins are labeled as the most impressive World Heritage Sites.
Chatuchak Weekend Market
Chatuchak weekend market is one of the biggest markets in Thailand. There is an information center and a bank with ATM's for visitors. So if you go out of money you can visit those ATM's.
Wat Phra That Lampang Luang
Buddhist temple named Wat Phra That Lampang Luang in Lampang province is the oldest temple in Thailand dating back to 1476. It is the oldest standing wooden structural temple in the country.
Wildlife Friends Foundation Thailand Rescue Centre and Elephant Refuge
A place where more than 500 animals are taken care of including bears, tigers, macaques, Loris, gibbons and so on. This rescue center is full of fun and entertainment.
Thailand is a place to visit, learn cultures and tradition and have peace of mind and many more things.
People are friendly and the country is peaceful. If you wish to visit Thailand, be a part of Admark.
Booking
We use a lot of modern popular online platforms to book hotels, flights tickets to our customers going on a tour planned by us. We promise to provide the best of the best rates to our clients by directly dealing as an authorized agent with them to care our customers referred by us.
As we have mentioned in other articles as well, we provide book, stay, return and pay later facility to a large number of our regular customers.
Contact
We recommend our customers to either make a phone call via our 24x7 support number from the top of the website. If you live abroad, you could contact us on our facebook page, inquiry via our contact us page to drop an email up to our inbox.