Jomsom-Muktinath Trek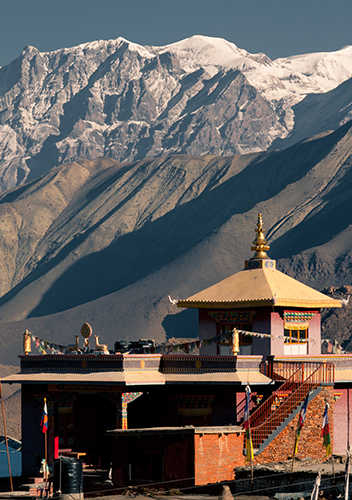 Tour to Mustang is a fun thing to do. Thousands of tourists from all around the globe visit Mustang to see it's mesmerizing beauty and also to worship in Muktinath Temple. Jomsom is the headquarters of Mustang District.
Mustang is one of the remotest areas in Nepal. A few years ago it was kind of difficult to go to Mustang and visit Muktinath Temple because of the lack of proper means of transportation and communication. But in today's days, it's just a matter of hours or days. So how do you visit Mustang? Well, there are multiple options.
Travel by Road
From Kathmandu, following Pokhara in Prithvi Highway Muktinath temple can be accessed within 2 days and 2 nights. After crossing Beni and Marpha you will reach Jomsom and crossing Kagbeni it would be easily accessible for you to reach Muktinath Temple.
Travel by Flight
The nearest airport to reach Muktinath is the Jomsom airport. Unfortunately, there are no direct flights from Kathmandu to Muktinath. First, you have to take a flight to Pokhara, then from there, you can fly to Jomsom. So one-night stay at Pokhara is the most and the next morning you will be heading towards Jomsom.
Travel by Helicopter
You can take a helicopter from Kathmandu. Unlike planes, helicopters are operated from Kathmandu. It will just take 1 and a half hour to reach Ranipauwa in a helicopter. From there the temple is 30 mins away.
Trek Traveling
You can trek with your friends and family to Muktinath too. From Kathmandu, you have to go to Nayapool Kaski, and then from there, you can start your adventurous trekking. It will take around 7 days for you to reach Muktinath and average walking duration should be 7 to 8 hours per day.
Muktinath Temple lies in conservation and trekking zone. So you should have a permit to enter the area.
The best time of the year to visit Muktinath is between March and November cause during that time the weather will be clear and you can have a lot of fun stuff.
Visit Muktinath once and you will feel different. Start today and if you are wondering from where to start, come and visit us. Admark Travels can book your plane ticket, provide you a helicopter if you want and pre-booking of the hotels won't be a big issue. We are here to help you.
Guidance & Permit
Our team members are always ready to help you with any information you want for trekking on the Jomsom-Muktinath Trek. To know in depth about the information required to trek in that region, we recommend you to visit our office personally during business hours.
We help you to provide the access permit, which is issued by the government office upon filling up a form with required documents.
Pricing
The process takes some fees, for which we promise to provide the best of the best rates to our clients by directly dealing as an authorized agent with them to care our customers referred by us.
Contact
We recommend our customers to either make a phone call via our 24x7 support number from the top of the website. If you live abroad, you could contact us on our facebook page, inquiry via our contact us page to drop an email up to our inbox.